1/11
Bay of Many Coves
2/11
Bay of Many Coves
3/11
Bay of Many Coves
4/11
Bay of Many Coves
5/11
Bay of Many Coves
6/11
Bay of Many Coves
7/11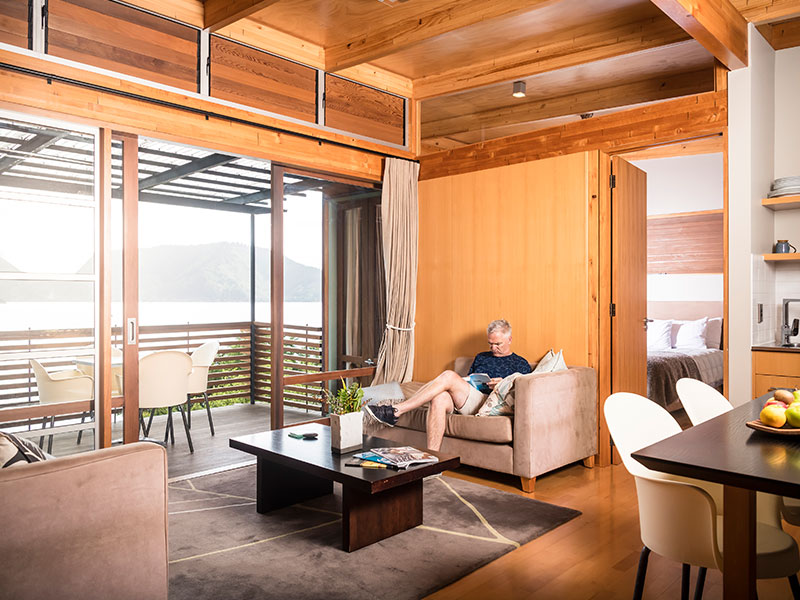 Bay of Many Coves - Kereru Suite
8/11
Bay of Many Coves
9/11
Bay of Many Coves - Three Bedroom Apartment
10/11
Bay of Many Coves - Two Bedroom Apartment
11/11
Bay of Many Coves - One Bedroom Apartment
Priced at USD
$2,213
avg/ night incl all taxes
Price is based on peak season rates. Contact us for low season pricing and specials.
INTRODUCTION
Set directly on the ocean's edge in the Marlborough Sounds, Bay of Many Coves is a five-star luxury resort that can only be accessed by water or air.
With just 12 wooden suites ranging from one, two and three-bedrooms, it's the perfect getaway for a solo jaunt, couple's retreat, or family trip – especially for those seeking both adventure and leisure. Dining is a large part of any stay in the Bay of Many Coves, and the food here is among the best in New Zealand.
With three restaurants to choose from – the Fordeck, The Kumatage and the Bight Café – you can indulge in the finest seafood, local produce and world-class wines.
Don't miss a chance to try their famous Degustation menu, either – the food is paired to the wine, and not the other way around.
BAY OF MANY COVES LOCATION
STAY
Start planning your tailor-made vacation in Australia, Fiji and New Zealand by contacting our South Pacific specialists
Call 1 855 465 1030
Monday - Friday: 8am - 5pm PST Saturday: 8am - 4:30pm PST Sunday: CLOSED
Send an email sales@southpacificbydesign.com